Antioxidant Hydrogen Rich Water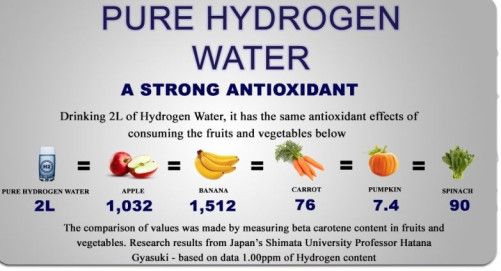 | | |
| --- | --- |
| Business Type | Manufacturer, Exporter, Supplier, Retailer, Wholesaler |
| PDF | View |
ANTIOXIDANT PURE HYDROGEN RICH WATER FOR ANTI AGEING
Drinking Hydrogen Rich Water helps in reducing oxidative stress by selectively removing Reactive Oxygen Species (ROS).
Reactive Oxygen Species (ROS) in the body damages cells and their membranes.
What is Hydrogen Rich Water?
It is water that contains high concentrated hydrogen. The human body produces free radicals naturally during metabolism, which is a fundamental factor in aging, chronic diseases & skin problems. Free radicals can also increase due to unhealthy eating habits, stress, water and air pollutions, excessive work and other causes that will damage human cells. Hydrogen rich water is the key to neutralize free radicals to achieve greater health.
Benefits of Hydrogen Rich Water :
Neutralizes / removes Reactive Oxygen Species (ROS)
Delays aging processes, such as wrinkle formation, chronic inflammation, CANCER, diabetes and high blood pressure.
Micro-cluster hydrogen molecules are easily absorbed by the body
High reduction power anti-oxidant
1,000 ppb hydrogen rich water has the effect equivalent to consuming 1,032 apples on the basis of beta-carotene content.
Molecular hydrogen (H2) is a strong antioxidant that rapidly diffuses throughout the human body, fighting free radical damage on the cellular level.
Hydrogen is a known anti-inflammatory and stimulates your metabolism. Recover faster from strenuous exercise and enjoy healthier living.
Improved energy levels
Faster recovery time after workouts
Boost your body's natural resistance to illness
Promotes healthier skin and a younger more vibrant appearance
Free radicals are unstable molecules that contribute to oxidative stress, a major cause of disease and inflammation. Molecular hydrogen fights free radicals in the body and protects the cells from the effects of oxidative stress.
REVERSAL OF ALL CONDITIONS, DISEASES, DISORDERS POSSIBLE.
Looking for "
Antioxidant Hydrogen Rich Water

" ?
Litre